Q&A: Your home spring clean-up checklist
Spend a half hour outside for an annual home check-up
Spring and summer to-do lists can quickly get long. Clean off the grill, put the summer top on your car, sign your kids up for swim lessons…the list goes on, but does it include your home? While you might be focused on spring cleaning inside, it's smart to check up on your home from the outside in after a long winter. An hour is all you'll need.
We interviewed Berkley One's Risk Management Consultant Jerry Forrest to find out how you can spring ahead to help protect your home. Here's a checklist to help you get started, plus his answers to commonly asked questions.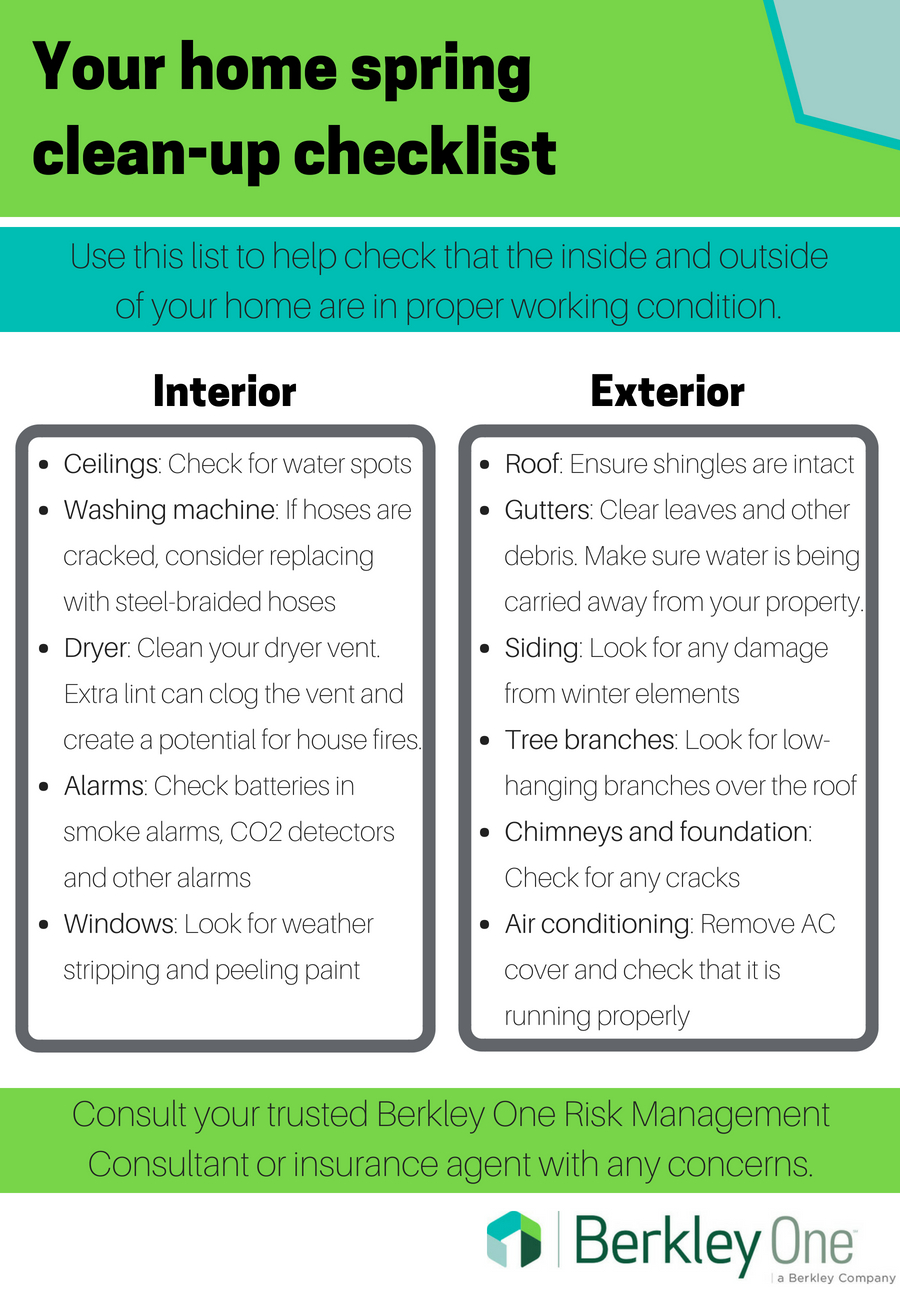 Q: What should I check when it comes to my home come spring?
Winter can be harsh on your home. The exterior takes the worst of it, with ice, snow and hail storms. Once the weather gets nicer, you're mostly likely looking for an excuse to get outside. Here's a great one: slip on your sandals and take a walk around your home.
On your walk, take a look at your foundation, exterior siding, deck or patio, gutters, and chimneys. You don't have to know exactly what to look for to get started. You know your home best. Even if you don't know exactly how something works, you can often tell when it doesn't look right.
Here's a few areas to start with: Look to see if any tree branches have shifted and may be hanging over your roof. See if there are any cracks in the chimney. Look under your eaves to see if your gutters may have separated from your home. And, of course, check that they are clear!
It's also a good idea to have your roof inspected by a professional if you think there might be a concern with any areas you cannot see. High winds, for example, can rip off shingles on your roof—and they're really the only layer separating your home from the elements.
Q: We're supposed to get a lot of rain this year. Any concerns there?
It's one more reason to make sure your gutters are clear! It's also a good idea to go outside during a period of rain, and observe where any standing water is collecting around your house. That water can find its way back into your basement.
Rain is a good time to check for negative drainage, which means the landscape slants towards, rather than away from, your home. Over time, this can cause issues with your foundation.
Finally, make sure that your down spouts are moving water away from your home—not just depositing it right at the base of your foundation.
I've always loved visiting homes on rainy days. It's these days where potential issues become more visible—and if you can find an issue, you can do something about it!
Q: I'll need to turn the AC on soon. Anything I should be thinking about?
Check to see that your air conditioner is in good working condition, especially if it hasn't been used for the last few months. Remove the cover and make sure that everything looks okay from the outside. If your AC unit includes a yearly maintenance check, this is a great time to schedule it.
Also, check that air can flow cleanly into the unit. If you have cottonwood trees around, make sure the seeds (and the white fluff that encloses them) aren't getting caught in your AC vent from the outside!
Q: I've walked around and everything looks good. What about the inside of my home?
Start by checking all of the batteries in your home—smoke alarms, CO2 detectors and any other alarms you have. It can help you get on a regular schedule, and takes only five minutes.
Next, stop by your laundry room. Make sure that your washing machine hose isn't dried or cracked. Keep in mind that it handles scalding hot water—if it appears damaged, consider switching to a steel-braided hose, which handles heat and pressure well. Also, make sure your dryer vent is clear of lint, which can cause house fires if it builds up.
Checking windows can help you keep a more airtight house. This can make your home more energy efficient, not to mention helping to keep water out. Look out for any damage, such weather stripping or peeling paint.
Finally, just as it's important to look for water spots on your ceilings during the winter, it's important to do so during spring and summer as well—especially in the corners of a room.
Q: I'm really busy this spring—can I check up on this later?
It's easy to get busy as the calendar fills up—but it's much easier to check proactively (and get out into the sunshine to fix something) then to wait until after something happens in the winter months. It only takes 20 minutes to do a quick walk around. It's really that simple, and it really helps.
Make it fun—have your kids or pets come outside with you. See how many times you can walk around your house and take notes each time. Having a good baseline can help you spot trouble spots later on—and you won't regret preventing a bigger problem down the road.
Q: What else am I forgetting?
Don't do any work that causes safety concerns or that you're uncomfortable with, such as electrical or roofing fixes. There's a host of information at your fingertips online, but for things you're unsure of, it's a good idea to give your risk management consultant or your local agent a call. We're here to help, and we can often connect you to resources. As a risk management consultant, I'm always starting these types of ongoing conversations with clients on how to manage risk.
At the end of the day, your house is a combination of a lot of parts that work together. Think of it as one big puzzle. You can't ignore one piece, because they come together to make a whole. This thinking can help you keep your house safe—and get you to take the dog for a walk.
Jerry Forrest is a Risk Management Consultant at Berkley One (a Berkley Company).