Berkley One launches charitable initiative: Moving Families Forward
Earlier this year, I hit the road with a mission to start open, genuine conversations on what employees wanted our organization to be. As a startup, our culture was, and still is, emerging. It was an important time to start a dialogue about how our new company would allow us to bring our talents and passions into the work we do. In Berkley One offices across the country, we met as teams or individuals and started talking.
What we heard
After conversations with nearly eighty employees and hundreds of pages of notes, an important aspiration that stood out was the passion our team had for community involvement. Whether it was acting as a voice for children in need, giving pets a foster home, or contributing time to help families affected by disaster, Berkley One employees had many ways they were already giving back—and they were excited and hopeful about how our organization could make an impact.
Announcing our theme
After the tour, we got to work creating a plan for our charitable initiative. Our first step was to appoint 9 community ambassadors, who sit in different offices and work in different disciplines.
In our conversations, one theme began to emerge. At Berkley One, our mission as an insurance provider is focused on supporting families to move forward in their adventure. We know that not everyone's adventure is the same, and it's our job to offer flexibility when it comes to coverage and service so that we can help our clients in ways that work for them.
Similarly, we wanted to give back in a way that was broad enough to help families in the many varied areas they need support and from that sprang our theme Moving Families Forward. Moving Families Forward could be donating time at a local charity, organizing an event or drive, or fundraising for a cause that makes a difference, to name just a few. This theme would allow our team to volunteer on their time and terms at the places and for causes that matter most to them while also creating something that knit the organization together around a unified goal/mission.

We're just getting started
In January 2019, we are launching Moving Families Forward, our company-wide charitable initiative:
We're committed to giving each Berkley One employee paid time each year to volunteer.
Each office has a goal of doing at least two group events annually, which are centered on our theme.
We've enabled a way for employees to track and log volunteer time and initiatives. We have platforms where employees can connect around volunteer efforts, whether it's inviting each other to volunteer events or sharing photos and experiences.
While we're thrilled to kick off officially in January, we also didn't wait to get started. Check out the infographic below to read our story, and see how Berkley One employees have made an impact already in 2018.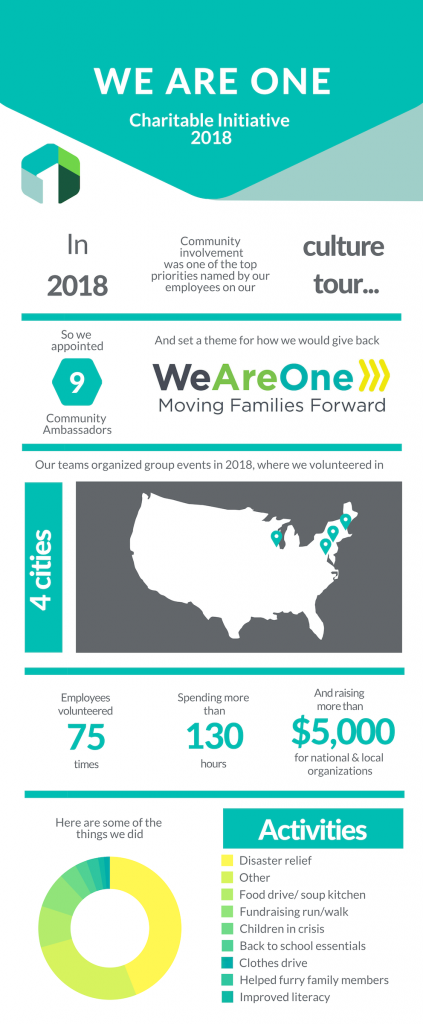 Ellen Long is Vice President, Human Resources at Berkley One (a Berkley Company).