A year of firsts: Berkley One at One Year
A lot can change in a year.
Just over one year ago, Berkley One opened its doors to offer a new kind of personal insurance. We wanted to flip the traditional insurance conversation from one focused on things to one focused on people. People whose homes, cars, collections and travels reflect their own stories and adventures, and who appreciate customized products, new ideas, and there-for-you service that works with their busy lives.
First and foremost, Berkley One is built to be nimble—using the flexibility, agility, and energy you'd expect from a startup to help us adapt to client needs, not the other way around. Still, we knew when we launched last year that we would face the traditional challenge of a startup: the race to reach scale and provide the scope of services offered by larger organizations.
What we expected to be one of our biggest challenges actually turned out to be a terrific opportunity. Today, the rise of new technologies and data, coupled with the presence of fellow innovators in insurance, makes it possible for a startup to access more, build more and do more than ever.
Our first year taught us that the most important thing we could do was to be open to partnership and co-creation.
We've found that by embracing this concept, we can punch above our weight in ways we wouldn't have imagined, and—most importantly—that we could focus immediately, almost as soon as we launched, on continuously improving the client experience. Here's how.
We expanded our footprint
There's a lot that goes into launching a new market, especially in an industry like insurance. We wanted to introduce something new, not just recreate what is already out there. That meant we needed to think differently.
Our product design process starts with the client, not the coverage. We know that our clients are not one-size-fits all, so when we launched our suite of products (home, auto, collectibles and excess liability), we designed each one to be customizable, with broad coverage and flexible options so clients can right-fit coverage to their lives and not feel like they are paying for coverages they don't need.
To date, 100% of clients have also chosen to add one or more of our specialized endorsements, like Cyber, Service Line, Equipment Breakdown, Secure or our One Endorsement, to personalize their coverage.
We also built from the outside in when introducing 2 new products this year: travel and flood. Both were created using interviews, research, and an iterative process to learn what mattered most to our clients and agents today.
Building our suite of products and services also meant embracing the ideas of collaboration and co-creation. As a member of Berkley, a Fortune 500 company with a rich 50+ year history and A+ rated member insurance companies, we are connected to over 50 Berkley units, each with expertise in a particular insurance niche. Our work on travel, cyber, and collections was done in partnership with other Berkley companies and proved that although we are a startup, being part of Berkley gives us access to a highly specialized network of experts who can help us build faster and better.
As we grew our portfolio, we also expanded our reach to 7 new states. And we've been hard at work preparing new states for 2019, including Florida and Ohio, which launch shortly after the New Year!
We grew The Company We KeepSM
One of the best parts of our job is who we get to work with.
We have a term—The Company We KeepSM—for the people and partners we work with. We believe the people in our circle make us better, and we are committed to surrounding ourselves with partners that we learn from, and build with, every day.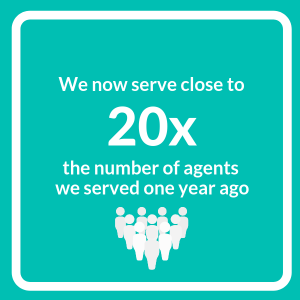 That starts with our agents. At Berkley One, we work with a select group of independent agents. Beginning with very first partners in Illinois, and in every state thereafter, we have gotten to meet, onboard, train, and build the very best network of agent partners, who have had a seat at the table in building with us. We've created tools to help our agents get on board—including personally training over 750 agents, introducing on-demand training tools and providing resources in our agent portal.
We're proud to have found great agent partners in all the states we have launched in so far, and we continue to be selective as we grow and expand our relationships in new geographies.
Together, we can create more than we ever could alone. We think of Berkley One as a client experience marketplace, bringing together new ideas, products, and services to match market need and sharing ideas openly and often. And as evidenced by the thirty-three The Company We KeepSM spotlights we shared on our blog, we were just as excited to tell the stories of our partners as we are to tell our own.
We served our clients and agents
You could say that we're a little bit obsessed with client experience. Our goal is to bring expertise, service, and digital platforms together to make insurance as simple and positive as it can be.
For clients, this meant creating an easy-to-use, integrated service experience, and being there when and how they needed us. We built easy-to-use digital options for self-service, including a client portal and mobile app. And our clients utilized them, with 80% electing electronic paper delivery and 75% making electronic payments.
We also found ways to personalize clients' experience with risk management and claims: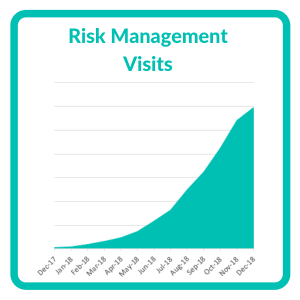 We consulted with hundreds of clients during risk management visits—some even occurring on the weekends to accommodate clients' busy schedules.
We provided on-demand access to trusted, qualified experts through our PlusOneSM network, including over 1,500 vetted, insured contractors and 24,000 auto repair facilities.
When clients notified us of a claim, we averaged under 1 hour to get in touch—even for claims submitted after hours and on weekends. When it came to property claims, we had inspectors out to clients' homes in under 24 hours, 100% of the time.
For our agents, we were committed to being responsive, transparent and connected, whether it was in our underwriting approach, service delivery, or connections with our dedicated Agency Experience Managers.
The partnership between our underwriters and agents is one of the keys to our success. Not only did our underwriters return 90% of new business approvals within one business day, they also worked on many complex accounts, including family office accounts, excess liability limits of $50 million, and homes, condos and collections in multiple states valued in the tens of millions of dollars.
Our service team now handles 54 times more calls than when we launched, and offers chat and screen takeover support to help with quoting, issuing and renewing accounts.
We created a new role, the Agency Experience Manager. Our AEMs work with agents in support of their business plans, as a resource for them to grow with us.
Our hope is to make every interaction feel like this one:
"So far our experience and interaction with the Berkley One team, underwriters and our Agency Experience Manager has been amazing, and they are always ready to help us. They have made the transition of getting to know the company, website and products super easy. Great teamwork."
We found new ways to solve problems
Insurance is changing, and we're excited about where it's going.
One of the most valuable things we did this year was create a constant feedback loop. We didn't just ask for feedback, we invited it—through think tanks, agency visits, service interactions, conversations with Berkley One leadership and more. And we took all of that feedback on board to guide our decisions and priorities.
This approach allowed us to take full advantage of the influx of new ideas and technologies in the industry—from AI to infrared cameras, from smart home automation to trends in whiskey prices—to help us solve problems for our agents and clients. Here are a few examples:
We created unique ways to handle modern exposures, like home sharing and properties in the name of trusts/LLCs.
We moved flood up in our product development schedule, and have plans to offer flood coverage in more states in 2019.
We attended innovation conferences and events, and worked on several exciting pilots with our partners in Insurtech.
We continued to develop and optimize our system, resulting in improvements that allow our agent power users to quote an account in as little as 10 minutes.
We gave our agent partners the opportunity to design their own portal that includes the things they need to make doing business easier.
Our design process moved from build and tell, to ask and co-create. Not only was this approach more exciting than us going it alone, it led us to much better outcomes.
We had some fun
It's about the journey, and we believe insurance should be flexible, intuitive, customized, and built to support the things that help people keep moving forward.
By opening ourselves up, bringing others in, and making innovation part of every day, we created a model that allows us to think big, and keep our agility and spirit. Personally, I can't wait to see what this upcoming year has in store.
Kathleen Tierney is President of Berkley One (a Berkley Company).