Collecting American coins: History and essentials
Part I
Each January, the French celebrate La Fete des Rois. Celebrations feature a puff pastry and frangipane cake with a coin baked into it. The lucky person whose slice of cake has the currency gets to be King (or Queen) for a day.
Collectors can appreciate this tradition—the lucky coin collector who sees the value of their historic gold or silver coin increase in value also feels like royalty.
American coins originated in the eighteenth century, and the history of their design and material reflect the growth and challenges of a growing nation. Many collectors enjoy acquiring these metal currency, which serve as both historical milestones and mementos of a nation's burgeoning economic power.
Paul Song, Director of Coins at Bonhams, underscores the market importance of American coins, "Most people are surprised to understand that ancient Greek and Roman coins are not the most valuable category for collectors. In fact, 80% of the top 20 coins ever sold at auction are US coins."
Coin collecting attracts audiences young and old. Because these collectibles are so closely related to the history of currency, and since currency is issued by government mints, a sense of historical context is essential to understanding and appreciating this collecting category.
A selective timeline of eighteenth and nineteenth century American coins
Coin enthusiasts will be familiar with the timeline below, which highlights major milestones in the evolution of American currency: 1,4,5
1792: Congress establishes the Coinage Act, which creates the US Mint in Philadelphia and regulates coin denominations.
1794: The first U.S. Dollar coin is issued in silver.
1796: The dime is introduced.
1835: Congress establishes the mint branches. At this time, locations are only in the Southern and Eastern parts of the young country: Georgia, North Carolina and Louisiana. Mint marks are identified and standardized coins stamped at each of the authorized facilities. (For more reading on the mint branches, visit here.)
1836-1873: The seated Liberty silver dollar, half-dollar, quarter, dime and half-dime are put into circulation.
1849: During the California Gold Rush, gold dollar coins are minted. The Double Eagle, a $20 gold denomination, is added as well.
1860-1861: Clark-Gruber Coins are issued in Denver.
1864-1873: The two cent piece is minted. It is the first coin to feature the phrase, "In God We Trust."
1866: The five cent nickel is introduced. It is made with 75% copper and 25% nickel.
1879-1917: Engraver Charles Barber is the 6th engraver of the US Mint. During his tenure, his designs adorn numerous denominations, including pattern coinage such as the "Stella."
Buying local: Territorial coinage
Many unique, rare coins stem from the era of the California Gold Rush in the 1840s and the discovery of gold in Colorado in the 1850s. Yet in this era, logistical problems were rampant, from disputes over the value and purity of gold, to difficulties shipping the precious metal from the West Coast to Philadelphia where it was coined. In 1860, brothers Austin and Milton Clark and their friend Emmanuel Gruber established a two-story brick building for stamping and issuing coinage in Denver, the first coinage "minted" on the West Coast. The so-called "Clark-Gruber Coins" refer to all gold coins produced at this facility from 1860-1861.1 
Today, these coins are important collectors' items. Paul explains their importance, "The collectability of so-called 'territorial gold coinage,' such as these coins and others issued in California, filled a niche to provide liquidity and coinage for commerce in areas that were still not settled. Because of this, most of these coins were produced in very small quantities, as the facilities were not meant for high-quality or high-quantity production. Secondarily, as their coinage was perhaps viewed as "temporary," many if not most of these coins were traded in and melted for proper official US coinage once these regions became more established."
A scarce and popular "Pike's Peak" ten dollar coin—a reference to the exaggerated design of a local mountain range on the obverse—will be at the January 2019 coins auction at Bonhams. Rarity and its excellent condition explains the $22,000-25,000 estimate on this piece of American numismatic history.
The catalogue states, "The present piece shows an especially sharp strike, minimal marks, no planchet problems, and no edge bruises. The surfaces have toned a rich cherry-red color in a somewhat mottled fashion lending to this coin's originality."2 
Coining some new terms
Planchets, strikes and bruises, oh my! As a collector, understanding the common descriptive and technical terms used when relating a coin's condition is vital. Websites like the US Mint provide a primer on the anatomy of a coin as well as key terms used when describing coinage. Here are a few highlights for collectors to know—definitions are paraphrased from the US Mint:3 
It's all in the process: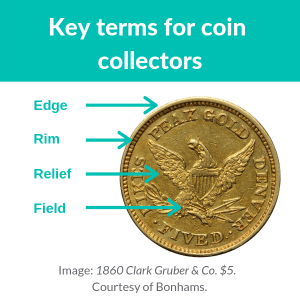 Planchet: The term for the (blank) piece of metal on which a coin is stamped.
Strike: The process of stamping a coin blank with a design. The value of rare coins is due in part to the strength of the imprint–full, average, or weak.
Parts of a coin:
Edge: The outer border of a coin is considered the "third side." It can be plain, reeded, lettered or decorated.
Rim: The raised edge on both sides of a coin. Not to be confused with the "Edge," the rim helps protect the coin's design from wear.
Relief: The part of a coin's design that is raised above the surface.
Field: The flat portion of a coin's surface not used for design or inscription.
Mint Mark: A small letter or symbol on a coin used to identify where a coin was made: Philadelphia (P), Denver (D), San Francisco (S), and West Point (W).
Reverse: The back side of a coin. Also referred to as "tails."
Obverse: The front side of a coin. Also referred to as "heads."
While knowing these fundamentals can make you more knowledgeable about the American coins in your own wallet, an understanding of coin history and essentials is also essential for collectors with an interest in this category. For more advice on how to care for your treasured coins, check out our upcoming article in this series, Part II: Caring for Collectible Coins.
Katja Zigerlig is Vice President of Art, Wine + Collectibles Advisory at Berkley One (a Berkley Company).
1
Song, Paul. Personal correspondence (email). Nov 2018.