4 holiday parties to host this season—with a twist
We're rethinking the classics with a reinvented cocktail party, fireside game night, New Year's brunch, and Super Bowl bash
Your holiday entertaining deserves an upgrade. But for those of us hosting friends, family, neighbors or coworkers this winter, managing guest lists, menus and invitations can prove enough of a hassle without the challenge of figuring out how to make your event memorable.
Yet the experiences we have this time of year are what makes this season special. The winter months are filled with opportunities to get together—from long weekends to snow days to holidays—and we're here to help you make them count. We put our team's creativity to the test and asked for entertaining ideas. The result? 4 reinvented versions of classic holiday parties—each with a modern upgrade that nods to today's trends, plus a quick risk management tip to help prevent common holiday mistakes. A smoother, safer, more memorable holiday season awaits.
Custom cocktails and conversation starters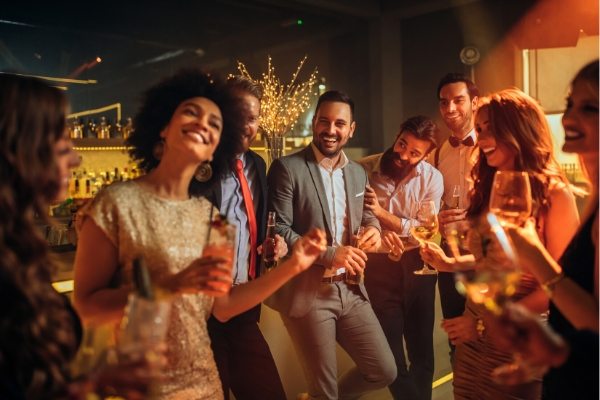 Set it up: Give a classic holiday cocktail party new life with fresh décor and customized drinks. This season, both minimalism and maximalism are in vogue, so take your pick. For a simpler setup, start with neutral tones and add some of the season's bold textures or nature-driven motifs. Unadorned greenery is a chic complement—or greet your guests with an elegant succulent wreath (you can even make one yourself!)
If you prefer a more colorful backdrop, jewel tones, pom poms, and shimmering metallics are standouts this winter and can star in your holiday scheme. Or, pick one of the 2020 colors of the year predicted by Architectural Digest for conversation-starting decoration.
Party twist: Hire a bartender to create made-to-order cocktails. Start with one or two versatile drinks—such as a cranberry mule or pomegranate martini—and let guests pick from seasonal garnishes to customize their cocktail so each one is unique. Go fresh with a mint sprig or lemon zest, complex with fresh sage or thyme, or add spice with cardamom or ginger.
Party tip: "If you have any party staff at your event—bartenders, caterers, servers or valet, it's always smart to consider background checks. Yes, it's an extra step, but it's an important liability consideration. To make it easier, insurance providers like Berkley One can put you in touch with partners who provide these services, which may even be available at a discounted rate," says Dan Cuccia, our Vice President of Risk Management.
Family game night gets better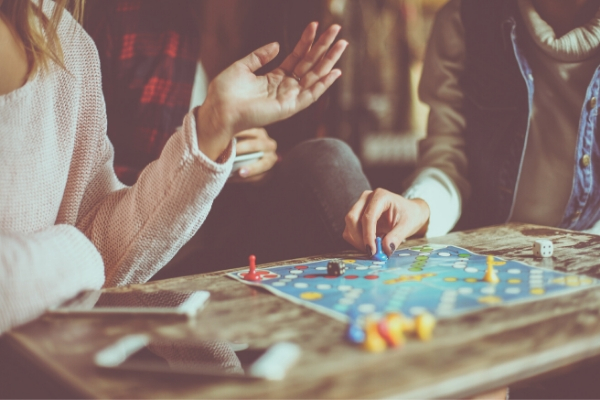 Set it up: Get a fire going, and introduce a new addition to your roster of tried-and-true favorite games, like one of these new game night favorites which range from strategic to spooky to musical to get even the most reluctant kids involved. If you're looking to go even bigger, life-size versions of popular games are getting sophisticated makeovers…an accent wall decorated with life-size scrabble tiles or an indoor decorative basketball hoop (this one is accented with copper and leather) just might up your game…room.
Party twist: Board games and beer flights are a classic pair at many microbreweries, so why not make a family-friendly remix and serve up hot cocoa, tea and coffee flights? Sub in mini espresso mugs for glasses on your beer paddle, and fill them with homemade cocoa and marshmallows sprinkled with peppermint and vanilla sugar. Adults can sample more adventurous flavors, like honey oat lattes, Mexican hot cocoa, lavender + dark roast pour over, and chai-chocolate.
Party tip: "When the weather outside is frightful, make sure your guests can come and go safely. Keep entrances and exits clear and free of ice and obstructions," explains Marylou Rodden, our Vice President, Casualty Claims. "Many households use a snow removal company for the winter months. If you have a company or individual you use, don't forget to ask for their certificate of insurance and keep it on hand." Adds Robert Young, our Auto Physical Damage Claims Manager, "Avoid driving in winter weather whenever you can—it's not a bad idea to reschedule your event if there is a storm."
The coziest New Year's Day brunch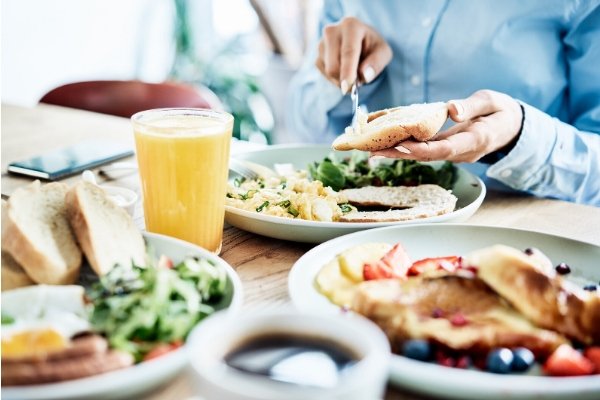 Set it up: Start off the New Year by doing something thoughtful for family and friends. Cooking just feels better when it's for people you care about. And, as the Chicago Tribune reports, half of consumers today care more about experiences than gifts this time of year—so create one that's a simple, refreshing departure from the usual.
Party twist: This year, why not skip the traditional New Year's Eve party and host a smaller, more intimate event on New Year's Day? Prep a few of your famous breakfast recipes from scratch, or try a new spin like pistachio Belgian waffles, everything bagel quiche or an herbed Spanish frittata. Leftover NYE champagne can make perfect mimosas (here's Fortune's list of champagnes to try this season). If you really want to elevate the homegrown aesthetic, consider giving (or asking for) a pottery or glassblowing class as a unique holiday gift…then use gorgeous new homemade serveware to set the table.
Party tip: "Screen for dietary concerns and restrictions before you plan your menu," notes Paul Cuzzola, our Vice President, Property Claims & Risk Management. "You don't want to ruin the party by making people sick! Today, there are more allergy and diet-friendly culinary alternatives than ever—and many are easy swaps." Coconut, almond or arrowroot flour can be used to make paleo-friendly, gluten-free waffles. Flaxseed meal or a can of chickpeas (really!) can be used in place of eggs to concoct vegan—and delicious—baked goods.
Outdoor Super Bowl social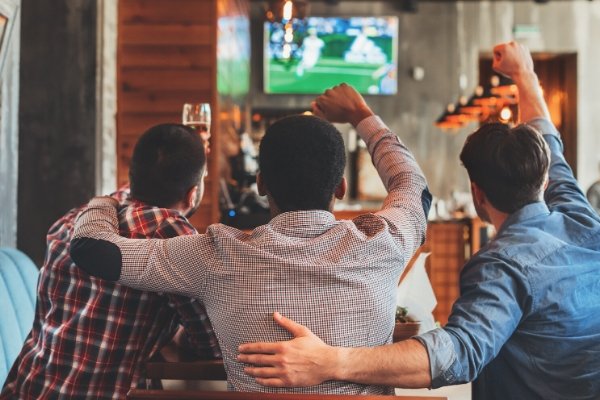 Set it up: Superior snacks are the way to win a Super Bowl celebration. Check out the most googled Super Bowl food in each state for a glimpse into what visitors are looking for. Focus on the classics, and add one or two surprising options like zucchini noodle salad rolls or parmesan frico cups.
Party twist: One home design trend that took off this year was upgraded outdoor living spaces—so if you're lucky enough to live in a climate where you can enjoy being outside in the winter months, consider bringing the party to your patio. Outdoor televisions, pizza ovens and fireplaces can make an outdoor space into an extension of your living room or kitchen. A basket of faux-fur or wool blankets keeps guests warm when sun goes down and adds a cozy, campfire vibe to your outdoor sofa or fire table.
Whether you're patioside or indoors this Super Bowl, designate different zones for guests who are all about the game, and those who would rather chat. Let your guests do the work of creating a fan-favorite playlist for your kitchen smart speakers through crowd-sourcing. Before the big game, create a collaborative playlist on an app like Spotify, and send the link in your invitation with a request for each guest to add a song or two they love.
Party tip: "With so many people moving around, don't forget about some simple fire safety rules," comments Paul. "Don't overload your circuits. Don't leave an open flame—like an outdoor fireplace—unattended when folks go inside to watch the game." And, Marylou adds, "Opt for flameless candles instead of real ones—that way it isn't a problem if someone knocks one over as they're reaching for your spinach artichoke dip!"
—
Berkley One is a Berkley Company.