Best Foot Forward
How LALISA® founder Lisa Lovisolo sets the pace for comfortable, fashion-forward footwear.
Throughout her career, Lisa Lovisolo has been someone on-the-go. She lived in Italy after college, where she developed a deeper appreciation for fashion—an experience that led her back to the States to pursue further education in the field. Shortly thereafter, she landed an international sales position with Donna Karan, traveling the globe representing the designer's work before moving into another covetable role with fashion icon Calvin Klein. Her dreams in the industry were being realized—until one day, she tore two ligaments in a snowmobiling accident—an injury that caused her to rethink her everyday routine and footwear.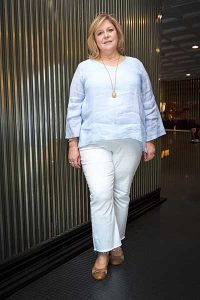 "Back then I was working in Midtown Manhattan, and I had to figure out how to navigate commuting in New York City, getting on and off the bus with crutches and a large knee brace" she says. "It became very clear to me during that time that shoes could make or break your day."
Lovisolo soon began a sales position with Taryn Rose, an orthopedic surgeon whose footwear line was recognized as one of the first to meld comfort and design. "I worked one-on-one with the stores and made frequent trips to the designer in Italy, who was making her shoes," she recalls. Eventually, that same factory sought out Lovisolo to represent them—a position she held for 13 years, handling trade shows, store communications, and press. But her favorite part of the job was in client relations and merchandising, meeting directly with customers to learn more about the kind of footwear they were seeking (in both form and function)—and helping to guide the design process accordingly. "It gave me a great overview of what it took to put this kind of business together, and the confidence to move forward in doing something on my own."
In February 2021 she did just that with the launch of LALISA®, a high-end, handmade footwear line rooted in comfortable, everyday design. To debut the collection, Lovisolo started from the ground up—literally—with a classic ballet flat.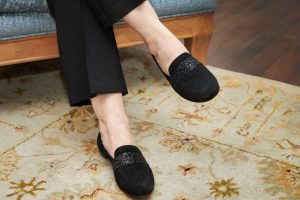 "I'm not able to hold myself the way some of my friends do in high heels, so I've always been a very big proponent of flats—it's where I feel most comfortable," she says. "And I very much believe that once you're confident with what's on your feet, the rest of you is held the right way." Customization and variety have been a crucial part of the design process for Lovisolo, and today, her collection features several different styles that her accounts—more than 30 footwear stores across the nation—can tailor according to their customer needs and wants. "Something I learned during my years in sales was the importance of regionality as it relates to style," notes Lovisolo, who references the classic black shoe as an example.
"New York loves a good black leather or suede shoe, but down South you may see a preference for softer colors—and I think it's important for stores to be able to showcase the shoe that works for their community, their climate, and their clientele."
Despite the range that accounts can choose from with regard to color and style, one thing remains the same across all LALISA® products: a dedication to quality materials—including premium leathers, suedes, and high-end hardware—an approach inspired much in part to the family-owned, European factory with whom Lovisolo collaborates.
"Quality is important when it comes to fine footwear, and it's nice to know that our shoes are made with pride from a team who values these philosophies," says Lovisolo. "I believe it gives our clients a sense of connection to what they're wearing, and that it's something they'll be able to wear year after year."
That dedication to high-quality design is also a nod to her Italian grandmother Bianca Lovisolo, a seamstress who opened a dress shop on New York's Upper East Side in the 1950s.
"She was incredibly talented and sought after, making garments for clients like Jackie Onassis," notes Lovisolo. "As a female business owner during that timeframe making beautiful creations, her story has always been so empowering to me."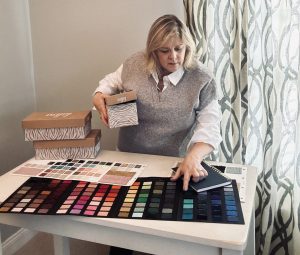 With LALISA®, Lovisolo hopes to impart a similar feeling of confidence to her clients—one that begins and ends with one core design element: comfort.
"Fashion can be many things, and what resonates in our day-to-day lives looks different for us all—but one thing that I believe holds true is that people who look effortlessly stylish are the ones who feel comfortable with what they have on," she says.
"When you see a woman who is fashionable, it's not because she is wearing a trend—it's because she is wearing something that makes her feel comfortable and confident. And that is when we all look our best."
To shop or learn more about LALISA® footwear, visit their website or find a retailer near you.
This story appears in One Adventures, Berkley One's digital magazine celebrating creators, experiences and stories. Read the full issue here.
—
Berkley One is a Berkley Company.
Header image: Eddie O'Garro